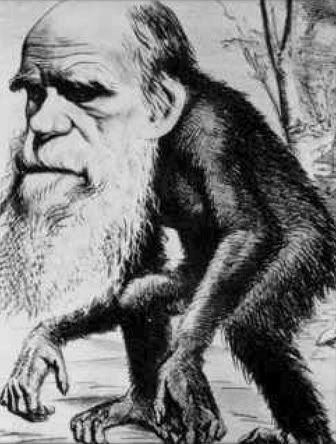 Father of Evolution Theory still stirring debate
Monkey's Uncle or not,
Charles Darwin
framed the contentious debate over who we are and where we came from. Meanwhile,
Chupacabristas
cry foul at the goal line in Amazing Updates and on this Date in Amazing History
Fidel Castro
settles in for a long stay at the top in Old Havana.

Much of the scientific and academic world this week has observed the 198th anniversary of the birth of the eminent English naturalist

Charles Darwin

, whose 1859 landmark work,

The Origin of the Species

, laid the foundation of the

Theory of Evolution

. Darwin subsequently became one of the 19th and 20th Century's most controversial figures. Even today his towering legacy is contested as fiercely as ever by proponents of

Creationism

and

Intelligent Design

. Not long after his passing in 1882, doctrinal zealots in London circulated a story (proven false) that Old Charlie had a deathbed conversion to Christian Orthodoxy whereupon he recanted his celebrated Theory.



Integrated Theory of Inversional Constructs

(ITIC) allow for the POSSIBILITY of

Intelligent Design

? That is to say, could ITIC allow that all life on the planet was deliberately and precisely placed here (and perhaps within a much shorter time frame than conventional scientists believe) by a single

All-knowing, All-Powerful Creator

?


To that question, the answer is an emphatic YES. Of course it is possible. Is it probable then? Before dealing with the latter question I should point out that an ITIC

embrace

of

Creationism

would raise the corollary, but equally valid presumption or possibility of

Unintelligent Design

or what has been termed

Abortionism

. According to this theory, everything on the planet is attributable to a

Vastly Powerful but Unknowing and Mostly Incompetent Supreme Bungler

who has botched or miscarried almost every single undertaking He has put His clumsy Hand to.

Abortionism

would explain the myriad inconsistencies and biological blind alleys that proliferate in Nature. It would also go a long way toward explaining many senseless cataclysms and disasters that have befallen the earth over millennia, including

meteors

slamming into the planet, the

Black Death

and the

Bush Presidency

.



Accordingly, the inverse corollary would stipulate that not only did dinosaurs and people NOT share the planet at the same time but dinosaurs themselves were separated by geologic ages so vast that a

Tyrannosaurus

might have had to wait centuries before a

Brontosaurus

would show up and provide him with lunch. The age of the Earth is not four or five billion years but more like 40 or 50 billion. Noah and his family didn't spend 40 days and 40 nights on the Ark but 40

years

and 700 grandchildren must have spilled out of the boat when it landed at Ararat. By which time the throng of hungry

Noahans

had eaten every last pair of animals on the craft except for two types of rodents:

rats

and

rabbits

which the passengers learned to breed and prepare in an infinite variety of ways. As for fresh vegetables, try having seaweed soup everyday for four decades.




Melvinism

, a Protestant sect that arose in 16th Century France and was later spread by ardent missionaries to Equatorial Africa and Brazil. According to

Jean Michel-Ange Melvin

, the Paris-educated theologian who founded the faith in 1527, mainstream churches had completely misinterpreted the Old Testament texts and Christian gospels. God was not a jealous and vengeful Omnipotent Deity who could order the massacre of thousands at the drop of an idol, declared Melvin, rather He was a kindly and well-meaning, but essentially accident-prone Celestial Parent (named

Yeeow-zaah

) who just got things wrong most of the time.

Jesus

wasn't crucified on purpose but accidentally nailed to a cross-bar during a sandstorm that blew up as the Helpful Carpenter was assisting Roman soldiers to erect a suburban racetrack. Actually, it was a gladiator ring but the soldiers withheld that information from the pacifist Savior. Melvinist doxology doesn't involve prayers

to

the Heavenly Father but

for

Him.

A number of Melvinist churches flourished in France and its colonies up until the eve of the 1789 Revolution and then rapidly dwindled when

Napoleon

condemned the faith as an

anti-Republican heresy

. Today only a few remote Melvinist congregations in Northeastern Brazil continue the practice where it survives as a curious blend of Candomble, Macumba, Spiritualism and Reform Judaism. Melvin himself was buried beneath a small headstone in a corner of the famed

Cimetiere Pere LaChaise

in Paris but was dislodged in 1971 to make room for

Jim Morrison

of the Doors. The current location of the Melvin reliquary remains a mystery.

To sum up: In terms of classic (if something first advanced in 1954 could be called

classic

) ITIC analysis,

Creationism

and its presumptive corrollary

Abortionism

must be seen as equally valid and logically compatible

alternate theories

of the Earth's origin and, I would say, merit equally serious study in our schools and institutions of higher learning.



AMAZING UPDATES

:

Rev.

Chong Migillicuddie

has written from

Barranquilla

that several of his

Iglesia Adventista Chupacabrista

(IAC) parishoners are furious that 19-year-old

Hamish Gomez

of Miami Beach dared to associate the miraculous reappearance of the

"Chupas Divinas"

in

Florida

with anything so tawdry as betting on the American

Super Bowl

. "It's unfortunate nonsense like this," says Chong "that utterly ridicules and sensationalizes the

Chupacabra

manifestations, obscuring the true nature of their heavenly mission. I would have thought that a person from a

Jewish

background would have deeper sensitivity for this wondrous apparition. After all," the Reverend continues,"We now know It wasn't really a ram that got tangled in the brambles as

Abraham

prepared to make a burnt offering of

Isaac

. It was a

goat

, placed there by an angelic

Chupacabra

under orders from On High." Rev. Chong says an IAC task force is working on a

Chupacabra Cabbala

citing numerous Old Testament passages that are suggestive of

Chupa

intervention.

We've received the latest revised forecast for the

Year of the Pig

(which begins next week), from noted

Shanghai

astrologer Dr.

Yao Man Fu-Zi

who foresees several startling political omens in the zodiacal alignments for 2007 and beyond. This subject will be further explored in the next Amazing Realms installment.


El Jefe goes the distance

Photo: Philippe Halsman
cover LIFE Magazine 1961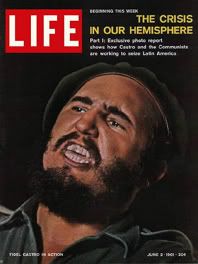 THIS DATE IN AMAZING HISTORY:



14 February 1848

Democrat

James Polk

becomes the first U.S. President to be photographed in office (by

Matthew Brady

) and so begins a charming American political tradition: the White House

photo opportunity

. This tradition will be utilised a great deal by succeeding presidents, especially embattled Republicans waging unpopular wars.



13 February 1865

The desperate American

Confederacy

approves the recruitment of slaves as soldiers on the proviso that their owner's approval is gained. Thus blacks in the South are offered the unique opportunity to fight on the losing side of a war aimed at keeping them in bondage forever. General

Robert E. Lee

surrenders at

Appomattox

two months later thereby permanently ending both the Civil War and slavery in the U.S.



16 February 1959

Victorious revolutionary

Fidel Castro

takes the oath as Cuban premier in

Havana

. Exiles in

Miami

and American

CIA

agents immediately start planning the

Bearded One

's downfall but the wily

El Comandante-en-Jefe

will be around a very, very long time.